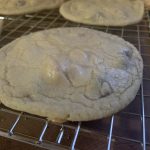 Print Recipe
Slim Bitches
Great cookie base with any additional ingredients you might enjoy in a tasty treat
Instructions
Slice butter sticks into pieces, allow it to soften

Mix sugar (white and brown) and softened butter in mixer until blended

Toss in each egg one at a time

Mix baking soda and hot water until dissolved

Add to mixer along with salt

Add in your sweets (chocolate chips, peanut butter chips, nuts, etc…)

Roll up dough into roughly the size of a meatball and place on ungreased baking sheet

Bake for approximately 10 minutes. Once edges are brown remove and wait 3-5 minutes before transferring to cooling rack. I like to remove it before the edges are brown for extra chewy cookies

Any extra dough, store in fridge and use within 3-5 days. Let ball of dough rest 10 minutes before cooking to shake off some of that fridge temperature.