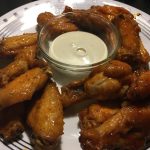 Print Recipe
The Best Baked Chicken Wings
Instructions
Preheat oven to 425F degrees.

Line baking sheet with aluminum foil and place cooling rack on baking sheet. The rack is optional.

Combine all dry ingredients and mix it.

Place wings in mixing bowl, sprinkle about half of the seasoning on wings and toss.

Coat the remainder with the rest of the seasoning.

Place wings on baking sheet and cook for 20 minutes.

Flip over wings and cook an additional 20 minutes.

Flip again and cook again for 15 minutes.

Toss them in your favorite sauce and enjoy!