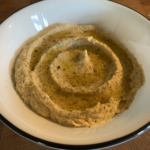 Print Recipe
Hummus
Thank me later when you're full.
Instructions
Stir tahini well and combine with lemon juice into food processor

Process for 1 minute, scrape down sides, process for 30 more seconds

Add oil, garlic, cumin, salt and process for 30 seconds, scrape sides and 30 more seconds.

Drain and rinse chickpeas, add half to processor and let it spin for 1 minute

Scrape down sides, add the rest and process for a minute or so

If the consistency is not what you desire. Add the water slowly while processor is running until you get what you need.

Make your plate, top it with more olive oil and a generous amount of Za'atar.