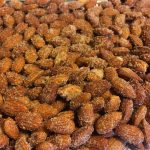 Print Recipe
Sweet and Spicy Roasted Almonds
Instructions
Optional: line with parchment paper

Pour in almonds, drizzle with olive oil and honey.

Cook for 1-2 minutes, remove, stir and even out almonds.

Cook for an additional 10 minutes give or take.

Combine sugar, salt and cayenne pepper. Stir well.

Pour almonds into a bowl, cover with seasoning and toss. OR Place on parchment and sprinkle seasoning on them.

Seal in a air tight container when cool.