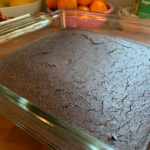 Print Recipe
Black Bean Fudge Brownies
Instructions
Preheat over to 350F degrees

Mix beans into a paste via food processor

In a large bowl, mix together the beans, eggs, oil and vanilla

In a separate bowl, combine cocoa powder, sugar, baking powder, salt, and coffee (OPTIONAL).

Add the dry ingredients to the above and stir in the chocolate chips. Let everyone get to know each other.

Grease your pan, line with parchment paper. Pour in the goodness and bake 30 to 40 minutes or until edges are cooked and center doesn't jiggle.